Sometimes I bake really delicious things. Today I decided to take photos of my final result and write up a kind-of recipe. I say kind-of because I always add in a dash of this or that or an extra little scoop, etc. I started out with a basic banana muffin recipe and just started throwing things in. Enjoy!




Preheat oven to 375 degrees F (190 degrees C). Lightly grease or line muffin tins with 24 cupcake sized liners. For fuller muffins, use less liners and fill cups more. I filled each cup about 2/3 full and got 24 medium sized muffins.


Mix all dry ingredients together:
1 1/2 cups - all-purpose flour
1 teaspoon - baking soda
1 teaspoon - baking powder
1/2 teaspoon - ground cinnamon
1/2 teaspoon - salt (I just used salted butter)
Mix all wet ingredients separately:
3 - bananas
1/3 cup butter, melted
1/2 teaspoon vanilla butter/vanilla
1 - egg, beaten
1 1/2 tablespoons orange juice
Cream together with:
3/4 cup - white sugar
1/3 cup - brown sugar
Slowly add ALL ingredients into one bowl and fold together. Next mix in:
1/2 cup - chopped walnuts
1/2 cup - chopped hazelnuts
1/2 cup - dried cranberries
Once muffin tins are filled and ready to go, place in preheated oven for 18-20 minutes. Bake about half way and rearrange tins in the oven so muffins are baked evenly. To test doneness: insert a toothpick or twist-tie into the center of a muffin (or a few muffins) and if the toothpick / twist-tie is dry, the muffins have finished baking. Let muffins cool and prepare your glaze!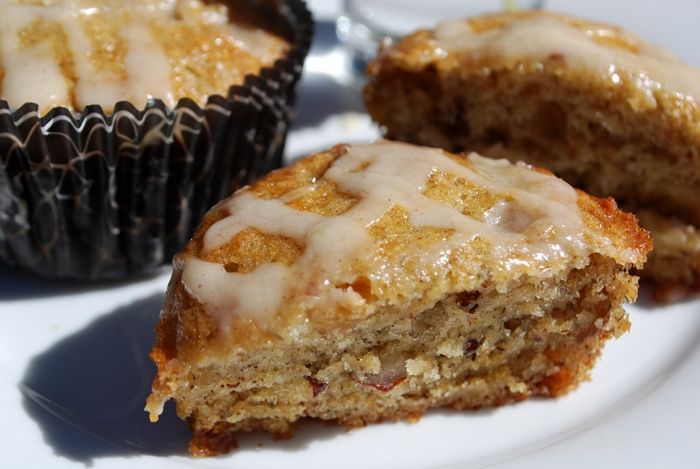 Ingredients for glaze:
1 1/2 cups - confectionary sugar
2 tablespoons - orange juice
1 teaspoon - ground cinnamon (or to taste)
Beat together until you've achieved desired consistency. Add more of each ingredient if you choose. Now, drizzle your glaze over your muffins. I actually dipped a few, as well for more of the orange taste. Good luck!